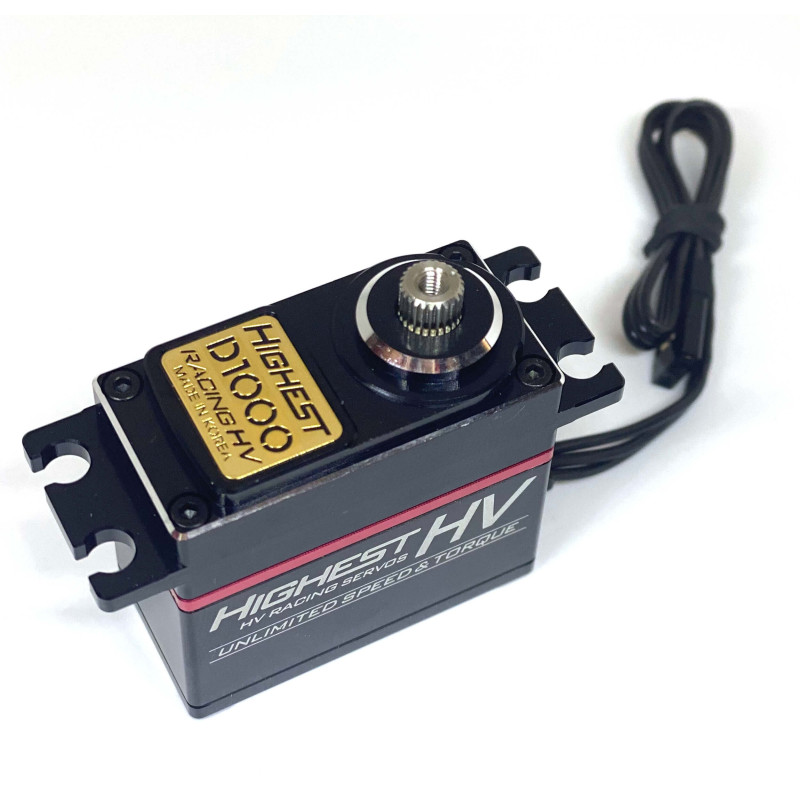  
D1000 HV Servo (1/8)
D1000 HV servo Highest RC

Data sheet
Torque : (6.0V) : 25kg.cm (7.4V) : 30kg.cm
Speed : (6.0V) : 0.11sec (7.4V) : 0.08sec
Size : 39.5*20.0*38.7 mm
Weight : 75,2g

High end servo for 1/8 cars
Contains:
25 teeth aluminium horn
4 mounting screws with washers and silentblocs
Specs:
Full Aluminum Case (upper,short middle,middle,bottom)
Full Metal Gear
Operating Voltage : 6.0 ~ 7.4V
Operating Temperature Range : -10 to +60°C
Motor Type : Ultra efficient coreless motor
Size : 39.5*20.0*38.7 mm
Weight : 75,2 g
Operating Speed :
(6.0V) : 0.11sec /60°
(7.4V) : 0.08sec /60°
Dynamic Torque :
(6.0V) : 12.2kg.cm -> 25kg stall
(7.4V) : 14.8kg.cm -> 30kg stall
BE CAREFULL, OUR COMPETITORS ARE SHOWING STALL TORQUE!
For every D1000 order, you can take the most of our unique warranty. Test our quality used by the best like world champions David Ronnefalk and Robert Battle and european champion Reno Savoya!

Secured payment with Paypal, Credit Card, check or bank wire

3 installments payments
from 100 to 2000€
Order before 3PM Paris time and get your order shipped today!

Worldwide shipping with a large range
Frédéric F. published the 13/09/2020 following an order made on 01/09/2020
Ces servos sont juste incroyable, rapide, coupleux et ne font aucun bruit
Jeremie B. published the 04/08/2020 following an order made on 15/07/2020
Parfait
Customers who bought this product also bought:
4 other products in the same category: